Happy New Year everyone and hopes for new adventures! I want to thank everyone who volunteered their time, effort and passion to make the NDPCS organization carry on our mission. Thank you to board member Jeff Fratzke, whose term is complete. Welcome to Tess Erickson Cain who was elected to fill Jeff's position. Thank you to Bonnie Nelson who was elected to serve as Secretary. We have a new Webmaster so please welcome Cameron Cain who may be getting a little help from a friend! Nate Leben has requested to step down as Commemorative Chair but agreed to stay on with help from Linda Fiedler until we find a replacement. Thank you, Nate! A heartfelt thank you to everyone who has served this organization. A special thank you also goes out to RoseAnn Goerger, who has served as our treasurer longer than most em-perors and whose reign has come to an end. We need a treasurer as we have been unable to fill that position. The board has discussed the possibility that it may be necessary to outsource or hire someone for that position to allow the organi-zation to function in the future. Please let me know if you are able to help. Finally, a special thank you to Don and Rose Ann Goerger, our Convention Chairs who put together a memora-ble convention this past summer. We are in good hands for our next get-together planned in Fargo on June 9-11, 2023, thanks to Linda Fiedler Convention Chair. Personal Note: It is with a heavy heart that I remember the passing of the love of my life and co-conspirator in the pottery world Kimberly! She always reminded me to be grateful for what we have rather than regret what we don't have, and that includes pottery. She was initially hesitant to have a dog in our life but, as you can see, that soon changed and this UND dog was one of her favorite pieces. Happy Hunting, Michael Kaul
The 34th ANNUAL NDPCS CONVENTION - FARGO, ND
As you may be aware of, convention events will take place once again at the Holiday Inn on 13th Ave-nue in Fargo. They have been great hosts and very easy to work with! That being said....
HOTEL RESERVATIONS @ 701-282-2700
Be sure to mention NDPCS Convention. There will be a block of rooms available. Be sure to specify if you want a room closer to our event rooms when reserving your room.
Remember your membership must be current in order to register and attend our annual convention.
Looking forward to seeing you all in June 2023! Linda Fiedler, Convention Chair
2023 Annual NDPCS Convention Tentative Agenda
Holiday Inn 3803 13th Ave S. Fargo, ND 58103
Friday: June 9, 2023 4:00pm Room Check-in; Holiday Inn Hotel Lobby 3:30 - 5:00pm Registration Check-in; Commemorative Pickup 3:30 - 5:00pm Meet & Greet; Harvest Hall 5:30 - 8:00pm Welcome; Evening Meal; Open Bar Social 8:00pm Room Visitations Saturday: June 10, 2023 8:00am Board of Directors Meeting 9:30 - 11:30am Educational Seminars TBA 11:30 - 12:30pm Box Lunch 11:30 - 1:30pm Auction Set-up; Auction Items Check-in 1:30 - 2:00pm Auction Preview 2:00pm Auction Begins 6:00pm Social; Silent Auction; Banquet 7:30pm Program Sunday: June 11, 2023 8:30am Coffee & Rolls 9:00am NDPCS Annual Member Meeting
The 2023 commemorative is a piece done by "accidental" potter, Julie Schuster. She calls herself The Accidental Potter, because after retiring from hair styling she needed to find other ways to share her art, connect with people, and be creative. She started by enrolling in an online drafting program at NDSCS, but eventually art classes in Dickinson and it is there she found her second calling. Her pottery instructor at DSU was Robin Reynolds, who taught her a great deal about throwing and making forms and also about running a safe studio at home. Julie is able to sell pieces through Robin at her pottery studio Dacotah Clayworks in Hebron, ND. Julie credits Robin with being a great inspiration and has helped her acquire a commission with the Redwing Collectors Society - Gopher Chapter. With that said, we bring you a honey jar and lid for the 2023 Commemorative. The last few pieces were tributes to Rosemeade, Dickota, and Three Tribes; however, this one combines both Rosemeade and UND since they've both made honey jars.
It is important that you get your order in before the March 15th deadline, as only enough commemoratives to fill pre-orders will be ordered from the potter.
1. Commemoratives shall be pre-ordered and paid for before March 15th, 2023.
2. No orders or sales will be taken after March 15th.
3. There will be no sales at the convention, only pick-up of pre-ordered paid commemoratives.
4. Upon request and payment to include postage and handling, the commemorative can be mailed.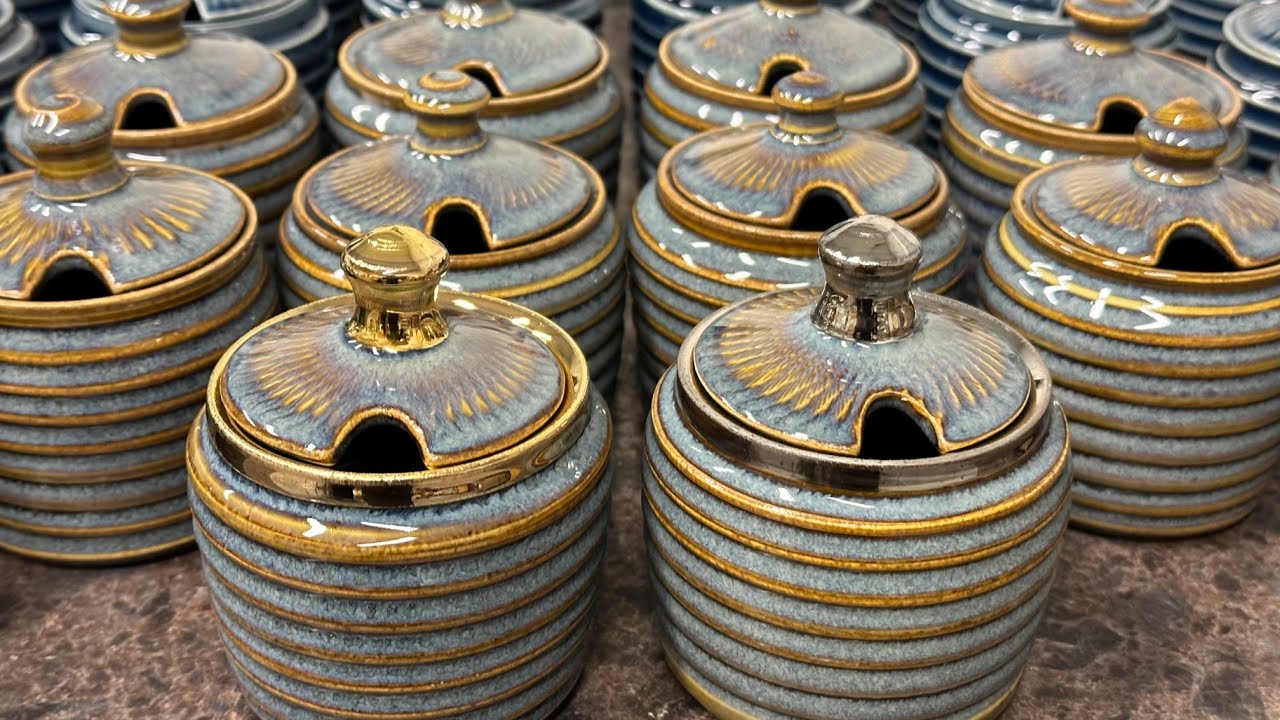 Video can't be displayed
This video is not available.
Mitchell, SD is the home of the world's on-ly Corn Palace. The first palace was built in 1892 and the present one is the third to be constructed. It contains a large auditorium which has many uses: graduations, proms, a circus, bull riding, and basketball tournaments. The corn used comes in a large variety of colors including red, brown, black, blue, white, orange, calico, yellow and green. 325,000 cobs of corn are used along with rye and sour dock . Each ear of corn is nailed to the palace. A different theme is selected each year. 2022 was Under the Big Top and 2023 will be Famous South Dakotans. The murals are now being designed by Dakota Wesleyan University students. Yes, the birds eat the corn. By the time they are getting full it is time to redecorate. Rosemeade made a number of souviner pieces for the Corn Palace.
For more information about submitting newsletter information and/or advertisements, please contact: